A luxurious relax with a private Jacuzzi on the sea view balcony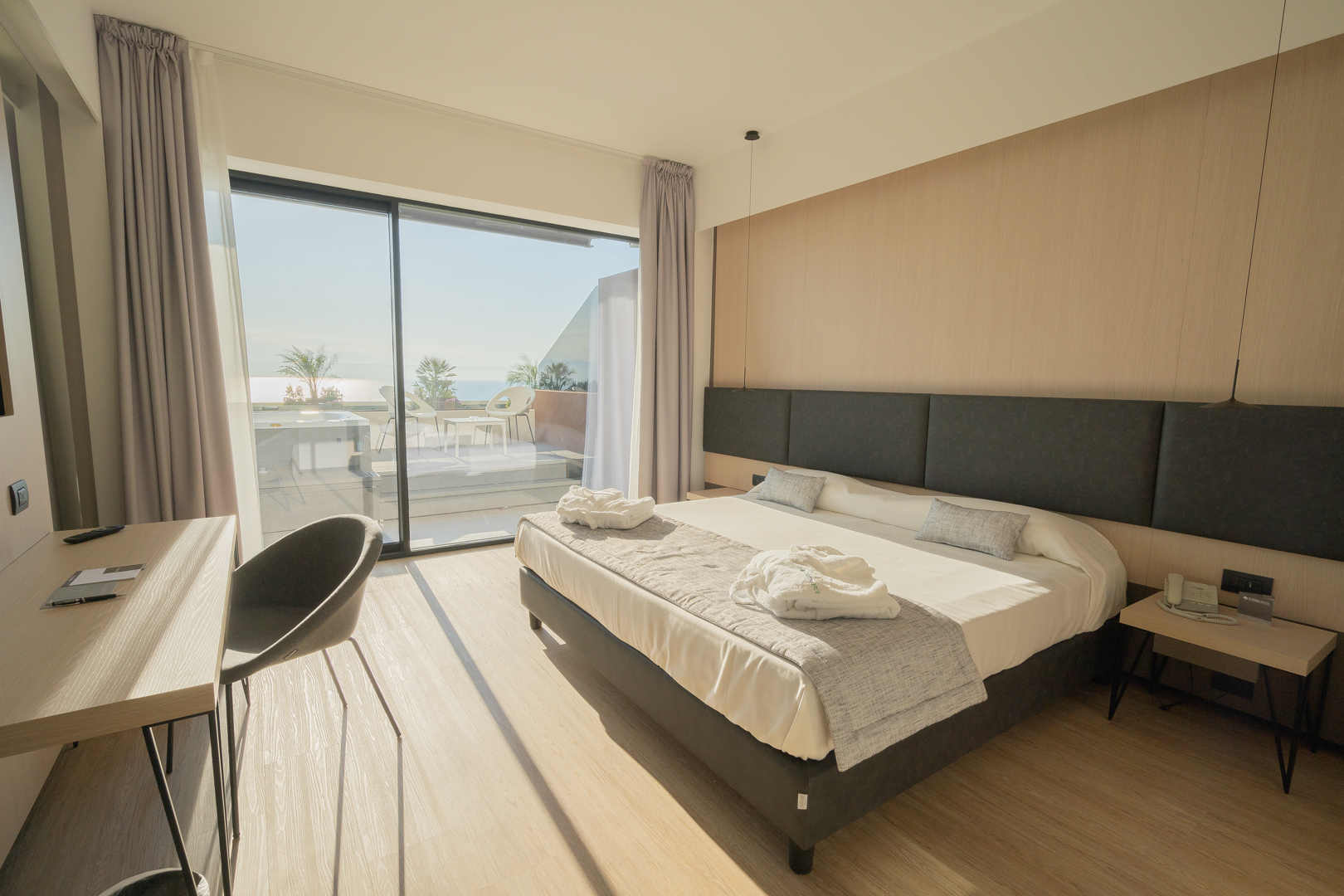 A relaxing and romantic holiday
There are holidays you will remeber forever, which represent wonderful moments spent with your beloved one. There are details, instants, that you put together to create your ideal holiday, the one you will always remember about.
Waking up admiring the sea, go on a fancy furnished terrace from where you can join a heartbreaking view, discover all the colours of the sky from dusk till dawn, use a private Jacuzzi just staying in your own terrace and relax. If you want to experience these feelings, the Jacuzzi Deluxe are the ideal rooms for your charming holiday in Sicily. A style that puts together design and comfort, where modern and Mediterranean blend together giving birth to a fancy, brightful and exclusive environment.
Jacuzzi Deluxe Rooms are made for those who want to spend a comfortable and healthy holiday, thanks for their private terrace, with a Jacuzzi bathtub for two and a glass wall above the heartbreaking panorama of Cefalu's beach. But surprises aren't over because if you stay in a Jacuzzi Deluxe Room you have a direct access to the wellness program of our Acquaverde SPA*, for a really relaxing holiday in Sicily
Attention to details, extreme comfort
Jacuzzi Deluxe Rooms, approximately 28 sq m, are spacious and well furnished with an extraordinary sea view. They are furnished with light woods embellished with pillows and functional elements for those who want to stay for a long period at Costa Verde Hotel: a large armchair with three doors and the light inside, a library with a mini bar, and a large safe that can contain iPads, notebooks and iMacs until 15''.
Fisio Massage with an ergonomic support, two pillows, with one softer than the other one, to ensure the maximum relax. Every Jacuzzi Deluxe room has an open WI-FI with a preferential channel, air conditioning, a kettle with tea service. In the wall of the bed you will find two USB-sockets to charge smartphones, iPhones and tablets, and two minimalist pendent lamps. In the boiserie wall there is a 43'' TV, a luggage locker, a full-length mirror with a pouf and a desk with a drawer equipped with a writing kit and an USB-socket. The bathroom, approximately 4,60 sq m, is in a contemporary style with a sink, shower cabin, wc, bidet and a full-lenght mirror. In addition a wall hair dryer, the Special courtesy kit "Jacuzzi Deluxe".
*free wellness Program from June 15th until September 14th.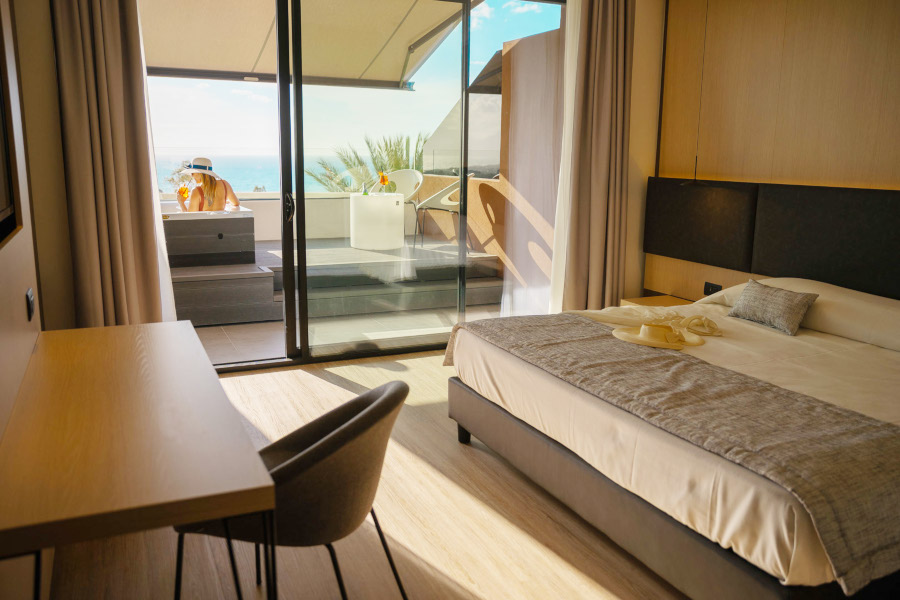 Esistono diversi modi di vivere la vacanza.
Consulta le nostre offerte e personalizza il tuo soggiorno, che sarà indimenticabile e unico, come te!